Classes
2023
Take a Class!
The North Conway League of NH Craftsmen Gallery is pleased to offer regular craft classes to the community in its Creative Studios, right on site. In operation since 2008, the pottery studio has grown to become a thriving center for creativity in clay. Our Creative Studios include a fully operational pottery studio and an additional renovated classroom on the lower level adjacent to the pottery studio, hosting a variety of craft classes for both children and adults. Sign up for a class and join in the creativity!
Our Teachers
Our classes are hosted by artists and craftsmen in the community.  Learn about your teacher and choose a class!
Sign our Waiver
If you've never taken a class here with us before, please sign our waiver.  You can print from home and bring it with you, or sign one when you arrive.
Covid-19 Safety
Each of our teachers has their own feelings about Covid-19 and masking.  Since you'll be working in close proximity with them, we are asking that all parties agree on masking for each class.  Please understand that some teachers will be requiring masks. If you are experiencing any cold-like symptoms, please test before attending a class and do not attend if you test positive.  If you miss a class due to illness or Covid-19, we'll do our best to schedule a make-up class for you. We appreciate mask-wearing even for common colds. There is also an air filtration unit in the studio.
What to expect for Pottery Classes
Be prepared to get messy! Please come to class in clothes that you don't mind getting covered in clay!  Clay washes out of pretty much any color, but white clothes could become a casualty.
Trim your nails. Long nails tend to gouge the clay and limit your hand positions for throwing. Give them a trim them for the best pottery experience.
Dress warm. You'll be sitting still at your wheel for most of the class, and the studio is on the lower level and often on the chilly side. You may want to dress warmly to be most comfortable.
---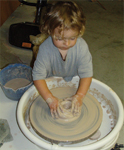 If you would like to receive notifications about upcoming classes, please click the "subscribe" button below. You can also join us on Facebook to keep updated about classes, demonstrations, and exciting new exhibits that come to the gallery.
---
VISIT US:
2526 White Mountain Hwy
PO Box 2614
North Conway, NH 03860
603-356-2441
STORE HOURS:
Mon-Fri: 10:00 AM – 5:00 PM
Sat: 9:30 AM – 6:00 PM
Sun: 9:30 AM – 4:30 PM
(Closed on Tuesdays January 1- June 1)
---
JOIN THE LEAGUE • LEAGUE HEADQUARTERS

OUR MISSION:
The mission of the League of NH Craftsmen is to encourage, nurture and promote the creation, use and preservation of fine contemporary and traditional craft through the inspiration and education of artists and the broader community.

© League of NH Craftsmen. Website Design by Sullivan Creative.