Promoting fine craft, supporting craftspeople, educating and enriching the community…
The League of NH Craftsmen first opened its doors in North Conway during the Great Depression in 1932. Part of a craft movement that swept the state of New Hampshire during that time, the gallery sprung from the establishment of its mother non-profit organization, The League of NH Craftsmen, now one of the oldest and most recognized craft organizations in the country.
During the Great Depression, this organization supported craftsmen by helping craftspeople sell their work, hone their skills, and generate an income for themselves and their families. The North Conway shop was established, along with shops in Sandwich and Wolfeboro, and the first Annual League of NH Craftsmen Fair, (now the oldest craft fair in the country) all in an effort to support and promote craft during that time.
Since then the North Conway League Gallery has become a landmark. The gallery is brimming with gorgeous fine craft, all made by New Hampshire craftsmen.  Over the last few years the gallery expanded in size by about thirty percent, incorporating a space that was previously studio space. The spacious new gallery with beautiful granite floors, features additional jewelry cases, furniture, weavings, quilts, photography, framed woodblock prints, and shelves full of colorful blown glass. Customers are thrilled to see the addition, and enjoy perusing the new gallery space. 
The North Conway League of NH Craftsmen Gallery has been managed by owner and League juried potter and ceramic artist, Karissa Masse since 2006. Originally from Lovell, Maine, Karissa grew up visiting the League gallery and dreaming about someday owning a store where she could sell her own art creations. Little did she know her dream would someday come true when she and her then husband bought the 75 year old gallery and combined it with their own pottery and glassblowing business. 
They owned the gallery together for about 8 years. Karissa set up her pottery studio on the first level of the building, tucked away from the public eye, while the glassblowing facility became a fixture on the main floor of the gallery. In 2008 she opened her pottery studio to the community and began teaching pottery classes. The program has since grown to become a thriving center for creativity in clay. There are currently both wheel-throwing and hand-building classes being offered and the demand has been so strong that classes run week after week without a break. 
In February of 2018, the craft education program expanded even further, to include a new fully renovated classroom on the lower level, adjacent to the pottery studio. This new program features a variety of craft classes for both children and adults, taught by local artists and craftsmen. Basket weaving, jewelry making, painting and stained glass classes are just a few that have been added to the program's offerings in addition to the regular pottery classes, and new classes are being added regularly. 
With all the creative energy going on at the League of NH Craftsmen, it's hard not to be inspired. This historic gallery is an absolute treasure in North Conway, encouraging an appreciation for authentic New Hampshire culture, and celebrating the talents and the brilliance of our local artists and craftsmen. Bringing a piece of art home from this place, even if it's just a mug for your coffee, reminds us each to appreciate the fellow artists and craftsmen in our communities.  Beauty can surround us every day, within our homes, as we take a sip from a handcrafted mug, or sit in a room filled with meaningful art, infused with all the love and consideration of a craftsmen.
The mission of the League of NH Craftsmen is to encourage, nurture and promote the creation, use and preservation of fine contemporary and traditional craft through the inspiration and education of artists and the broader community.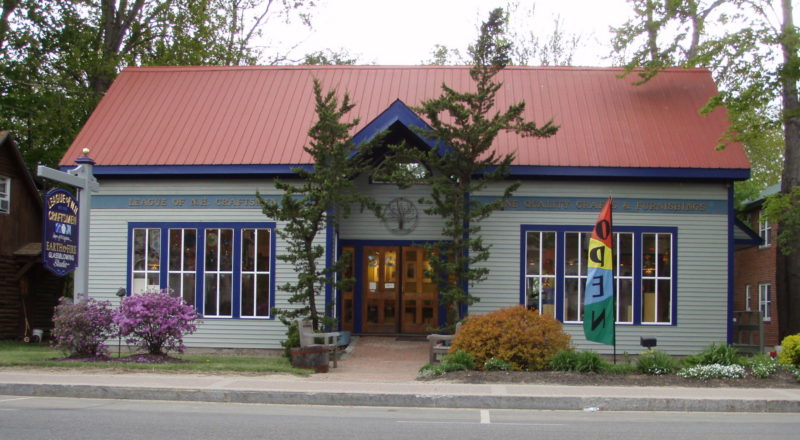 ---
WE'RE OPEN!
The gallery is OPEN for business (see hours below.) You can also browse our Online Store, where we've been uploading beautiful new handcrafted items everyday, or contact us if there's something in particular you're looking for.
Shipping and Curbside pick-up available.
Thank you for all your well-needed love and support.  We hope to see you soon!
The North Conway League of NH Craftsmen gallery will continue monitoring the COVID-19 situation, following the state guidelines, practicing safety precautions, and doing everything possible to make all shopping experiences safe for its staff and patrons.
VISIT US:
2526 White Mountain Hwy
PO Box 2614
North Conway, NH 03860
603-356-2441
STORE HOURS:
Mon-Fri: 10:00 AM – 5:00 PM
Sat: 9:30 AM – 6:00 PM
Sun: 9:30 AM – 4:30 PM
(Closed on Tuesdays January 1 – June1)
---
JOIN THE LEAGUE LEAGUE HEADQUARTERS


OUR MISSION: The mission of the League of NH Craftsmen is to encourage, nurture and promote the creation, use and preservation of fine contemporary and traditional craft through the inspiration and education of artists and the broader community.
© League of NH Craftsmen. Website Design by Sullivan Creative.