2017 Annual Ornament
Winter's Waltz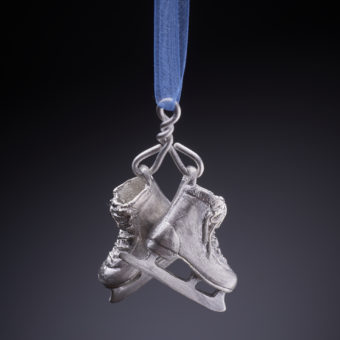 Winter's Waltz is the League's 30th Annual Ornament, and features a pair of ice skates handcrafted in pewter.  Inspired by memories of ice skating in winters past, juried League member Walker Boyle used the ancient lost wax method of casting combined with modern metal working techniques to create this one-of-a-kind ornament.  "I enjoy creating and bringing my pewter pieces to life.  Each piece seems to take on a certain vibration and personality, and that's what makes it fun," says Walker.
Each Winter's Waltz ornament is numbered and dated and has Walker's signature.  A frost blue ribbon is attached to the top so it can hang on a tree or wreath.  The ornament comes beautifully gift-boxed and sells for $28. Come by the gallery, or call 603-356-2441 to purchase your ornament.
About the Maker: Walker Boyle
A juried member of the League of NH Craftsmen since 2000, Walker designs and creates pewter and metal figurines and ornaments in his home studio in Antrim, NH.  He grew up in Rhode Island and studied painting and sculpture in art school.  He liked working with bronze and other metals, and decided to become a mold maker.  In 1998, he moved to New Hampshire to work with his brother in a casting company.  Four years later, decided to pursue a career making fine craft and set up shop.  "I have been coming to New Hampshire my whole life and really enjoy its natural beauty," said Walker.  "My inspiration comes through observation and love of nature, study of philosophy, reading, and creative imagination."
Walker works with a variety of metals, but has concentrated on pewter.  He also created the League's 2011 Ornament, a pewter pinecone called Nature's Adornment.

About the Annual Ornament
The League's annual ornament is selected each year by the managers of the 8 League of New Hampshire Craftsmen Fine Craft Galleries statewide.  Each year our juried members vie for the honor of creating the League's Annual Ornament. They submit their work and a selection is made by a specially chosen committee. Since the program began, in 1988, the Annual Ornament has become a tradition, and a "must-have" holiday treasure.
---
VISIT US:
2526 White Mountain Hwy
PO Box 2614
North Conway, NH 03860
603-356-2441
STORE HOURS:
Mon-Fri: 10:00 AM – 5:00 PM
Sat: 9:30 AM – 6:00 PM
Sun: 9:30 AM – 4:30 PM
(Closed Tuesdays during winter and spring months only)
---
JOIN THE LEAGUE LEAGUE HEADQUARTERS


OUR MISSION: The mission of the League of NH Craftsmen is to encourage, nurture and promote the creation, use and preservation of fine contemporary and traditional craft through the inspiration and education of artists and the broader community.
© League of NH Craftsmen. Website Design by Sullivan Creative.