What's New
Lisa Scala  May 2018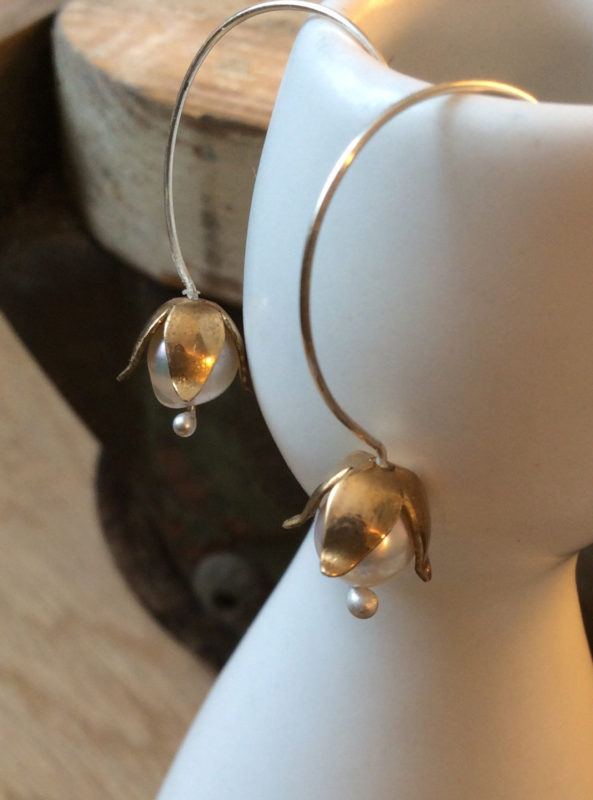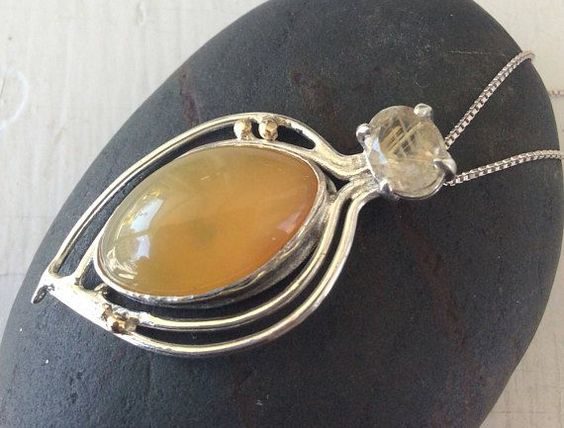 We are thrilled to now represent Lisa Scala!  Lisa is a gifted designer whose unique collection of handmade jewelry and accessories has delighted customers for over 25 years.  Her one-of-a-kind pieces reflect a life-long passion for art and natural beauty.  Lisa designs and crafts her works at her studio in Georgetown, Massachusetts, where she lives with her husband and their two sons.
"My designs are inspired by my observation and love of nature, reflecting the subtle beauty all around us."
Come visit the gallery to see Lisa's beautiful jewelry selection!
Douglas Alan Masury  November 2017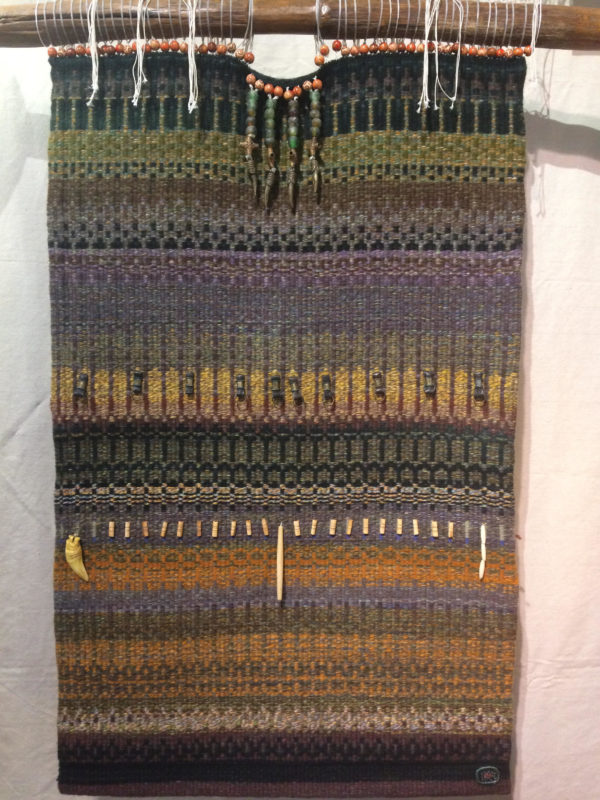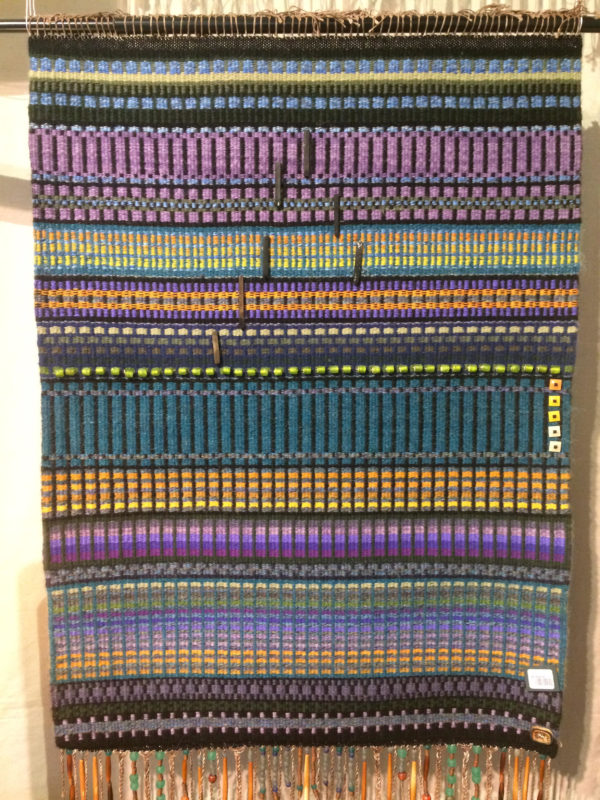 "I try to combine all of nature's color bounty in my weavings. The pattern changes by how one throws the shuttles containing the different colors of yarn when weaving.  I have custom dyed most of my yarns with the exception of the plain solid colored yarns. The custom dyed yarns are hand painted according to the needs of the piece that came through some form of inspiration. Seeing color form the inspiration into a 3D piece becomes very awe inspiring thus eliciting more views of my world around me. It is these inspirations that allow me to create as I do. It is the translation of these inspirations that allow me to look forward into the world around me to break it down into simplistic forms utilizing variegated colors to complete the unique project. No two pieces are the same.
It is with these pieces, I translate my world as I see it. There are times it is difficult to finish a piece as in my creative mind, I see the next three pieces coming forth. With each piece woven, mentally, I am three pieces ahead of where I am weaving, each piece more of a vision than the one I am working on at that moment. This forward vision often affects the piece I am currently working on and often, something new comes into play."
Come visit the gallery to see more of Doug Masury's beautiful weavings!
Rosemary Orgren  June 2017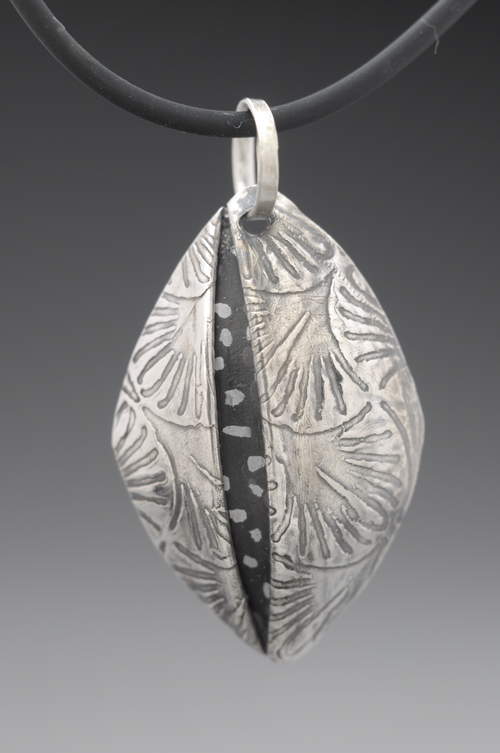 "I love pattern, texture, form, and shape.  I enjoy the challenge of bringing these elements together in cohesive and fluid designs.  My father — a pattern maker — passed on to me a lifelong love of tools and their uses, an esteem for sound construction, and a fascination with mechanisms of all kinds. It is important to me that my pieces be fully realized, assembled with care, and attractively finished front and back. My education in metalsmithing has been largely acquired at the Hanover metals studio of the League of New Hampshire Craftsmen. I continue to participate regularly in League classes while planning, practicing, and producing in my own studio in Vermont."
Come by the gallery to see more of Rosemary Orgren's beautiful jewelry!
Jennie Blair  March 2017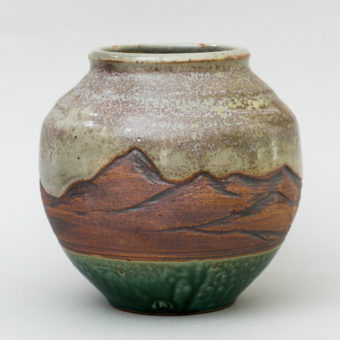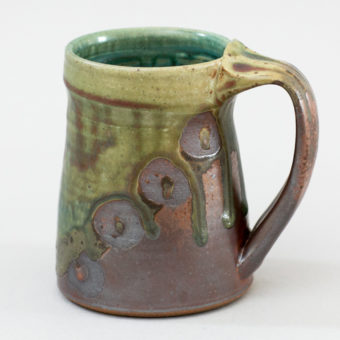 "The intention in my work is to incorporate texture, energy, and balance. I utilize glazes to enhance the surface of each piece making each one unique to touch and look at, while still embracing the pot's function. Like the clouds in the sky, I like to think each piece can show a different scene each time you look into it. I have have always been greatly influenced by my surroundings in nature; the mountains, the rivers, the woods, and the sky. As each pot passes through my hands, from wet clay to a finished glazed piece, I can only hope that each one tells it's own story and feels right to the person using it. Making pots has been a life force for me for nearly 20 years, not only as a source of work, but also as a comfort. I find solace with my hands in the clay. Throwing pots has a way of pulling me out of myself, while at the same time digging deeper in."
Jennie Blair was born and raised in New Hampshire, in the Mt. Washington Valley. After receiving a BFA in Studio Arts in 2000, she continued to work in studios with other potters over a period of 15 years. During that time she lived in Montana completing a one year apprenticeship, managing a production pottery studio, while also developing her own pottery business.  After moving back east to her home town, she continues making functional stoneware pottery in her studio in in Conway, NH.
Lars Turin  September 2015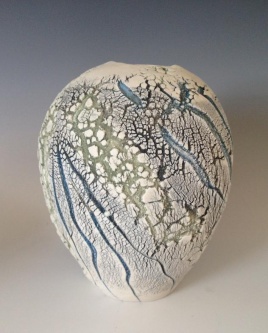 We welcome Lars Turin to the North Conway League of NH Craftsmen Gallery!  Newly juried to the League of NH Craftsmen, Lars Turin is a ceramic artist in York, Maine.  He began working in clay while attending SUNY New Paltz as a Fine Art Major in 1968. He became an art teacher in 1972 and spent the next 12 years teaching elementary and middle school students before moving into the high school level where he taught until he retired in 2007. In 2010, Lars became an adjunct ceramic instructor at Emma Willard School in Troy, NY where he remained until spring 2014. Lars also spent time at the Saratoga Clay Arts Center in Saratoga, NY with many talented clay artists.
"Some of my work has roots in traditional pottery, while my more sculptural pieces have connections with nature and people and the dynamics between them. I work with various types of clay, sculpting and wheel techniques, and firing processes. The rich variations of form, texture and technique available to me encourage and motivate me to further create and explore."       Lars Turin

Julie Schmidt  July 2014
As a self-taught metalsmith, Julie Schmidt has created jewelry since 1994 with all the right curves and twists. Each handcrafted design fuses vibrant metals with stitching or cold connection and heat. Julie enjoys working in sterling silver, copper and brass and she often combines them in the same earring, pendant, brooch or bracelet.  Her love of movement, texture and form speaks with whimsical and organic inspiration that complements your style. Julie designs, produces and etches her name into each unique creation.
Earlier in her career, Julie worked for a number of world-renowned jewelry artists and designers. Her studio is located in a refurbished button factory that serves as an artists' haven in the historic seacoast city of Portsmouth, NH.
"Julie Schmidt cuts and hammers bronze and copper alloys and gives them gleam and shapely appeal without the extravagant price. Her metal necklaces and earrings are three-dimensional hearts, flower petals or just free-form curvilinear shapes swinging and swaying with the wearer. The simple shapes are hammered for texture, sometimes heat-treated for color change and finally "stitched" together into 3-dimensional pillows or pods. Silver wire "threads" are a functional aspect to form the object and also add visual delight. The stitched-look is an inspiration from Schmidt's past. As a child she received primitive artifacts from her grandparents who were missionaries in Africa. She says her first work had a tribal feel that has since been pared away, but the stitching remains as a signature look. Schmidt's studio is in the Button Factory in Portsmouth. For the past 25 years, the building has served as a stew pot of artists working in close proximity. Meeting other jewelers, including Paulette Werger, gave her the courage to leave her administrative job and forge her own vision seven years ago."  (NH Magazine, November 2011)
Come to gallery to see the latest by Julie Schmidt!
Don Gorvett  April 2014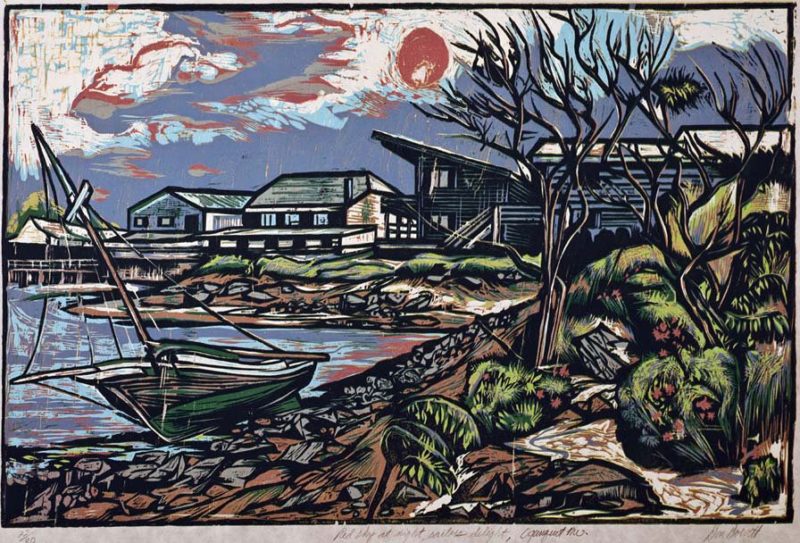 We are proud to now represent master printmaker, Don Gorvett, of Portsmouth NH.  Don Gorvett uses a reduction woodcut method, in which multiple colors are applied by removing additional material from the same block for each new color.  He must determine the number of prints beforehand, since the preservation of prior colors is achieved by the gradual destruction of the wood block.  One cannot retreat during this process.  The result is irrevocable, and the finished print cannot be reproduced beyond the originally determined number.
"My goal is to express the abstract geometric shapes and distant configurations of our architecture in the Northeast.  Upon the sea waters of estuaries and harbors are mirrored the play of interweaving lights and darks of buildings and piers, crowned by steeples and mast tops. I am fascinated by the ghostly quality of these buildings looming out of the mist, endowed with strength and endurance.  For me, historic architecture represents a bridge between one lifespan into another.  Abandoned not by time, but by those who built them.  Our structures remain and continue to wage war with nature's elements."
Don Gorvett is a graduate of the School of the Boston Museum of Fine Arts, and a board member of the Boston Printmakers. His works may be found in the collections of the Boston Athenaeum, the Portland Museum of Art, the Ogunquit Museum of American Art, the Cape Ann Museum, the Duxbury Art Complex, the Currier Museum of Art, and numerous corporate and private collections. He is represented in New York City by the Old Print Shop, and has been featured in solo shows at the Naples Museum of Art in Naples, Florida, as well as at Endicott College in Beverly, MA. 
Mark and Kathleen Frank  August 2013
We are proud to represent Mark and Kathleen Frank, stained glass artists.  All of their designs are original and unique, with inspiration coming from the natural world.  Having found glass to be an organic and versatile medium, Mark and Kathleen strive to create beautiful, functional pieces of art.  Mark and Kathleen Frank, with the help of  their son Kyle, cut, shape and solder each and every piece in their beautiful stained glass panels. They use traditional copper foil and lead caning techniques, along with more creative techniques including etching, fusing and slumping.  They even include beach glass in their work at times.
Their beautiful stained glass adds warmth and ambience, and the natural motifs compliment nearly any environment.
Kathy Marx: Paper Mache Sculpture  February 2013
We are pleased to now represent Kathy Marx with her whimsical paper mache sculptures.  Her creatures are colorful and playful, and they remind us to not always take life so seriously.  They remind us to smile.
"Art has always played a huge part in my life, and I discovered paper mache in 2001. Always inspired by animals, I try to capture what it would feel like to be a giraffe flying through the air, a dog sitting with his favorite toy, a moose trying to sit down!
"Many of my creations are enhanced by using 'found' objects; feathers, driftwood, shells, old barnboard, etc.., sometimes I just have too much fun.  I love whimsical pieces, colors, and creating different characters. Making custom work of peoples pets or favorite animal is just as exciting to me as it is to my clients. I live in the woods of Francestown, NH."
Tom White: Stoneware Pottery
October 2012
We are pleased to now represent Tom White with his beautiful stoneware pottery.  His glazes include rich and vibrant warm colors, and his forms are strong and lively.  His pottery is a wonderful addition to the gallery.
"I feel fortunate that after 35 years, I'm still passionate about making pots. I anticipate the excitement each new firing brings – always revealing so much new information. New surfaces, new colors – the "I've never seen that before!" experience. I find myself thinking about new pots while going to sleep. And I'm always anxious to take the 44 yard commute to the studio, coffee in hand, German Shorthaired Pointers at side, to turn those new ideas into pots."
"When realizing those new pots at the wheel, I find myself planning the glaze and their placement in the kiln, in an effort to replicate the perfect pot of my mind's eye. Although upon unloading, I'll usually find pieces far more exciting than I could have imagined. I'm often thankful not to get what I've wanted – the surprising result often exceeds the imaginary. What a wonderful material.
"My focus has always been on function; Pots that are a joy to use, pots that give the user both comfort and mystery, pots that are enjoyed like an old friend and yet bring new discoveries with daily use. One might find a certain area of the glaze previously undiscovered or a small finger print at the base of a handle. I often wonder where my pots will go and how they'll be used, and hope those using them will get as much enjoyment from them as I did on the day I made them."
Boyan Moskov Ceramics
July 2012
Boyan Moskov was born in Ruse, Bulgaria and was drawn to art from an early age. Starting at Troyan Art School (Troyan, Bulgaria) in 1987, Boyan fed his passion and developed his techniques in painting, sculpture, drawing and ceramics.  For many years following Troyan, he worked in many fashions from production ceramics to private art endeavors.   He continued his education at the Sofia Art Academy (Sofia, Bulgaria), followed by his international debut working as a potter in Sweden. In 2003, Boyan returned to Bulgaria to start his own, nationally acclaimed pottery business.
Anna grew up in New Hampshire, and was drawn to the worldly adventure of the Peace Corps.  Little did she know that she would find the love of her life in Bulgaria.   In 2007, Boyan and Anna got married and soon purchased and completely refurbished their own home in Contoocook, NH.  In 2008, Boyan Pottery was born in the house's barn, which Boyan transformed into a pottery studio.   From that point Boyan has been working to find new avenues to showcase his work.  He creates wonderful art pieces but thrives on designing functional pottery with fabulous color and design.
In 2009 and 2011, Boyan was awarded "Best Decorative Ceramic Piece" at the League of NH Craftsmen's Fair "Living with Craft" exhibition.
---
VISIT US:
2526 White Mountain Hwy
PO Box 2614
North Conway, NH 03860
603-356-2441
STORE HOURS:
Mon-Fri: 10:00 AM – 5:00 PM
Sat: 9:30 AM – 6:00 PM
Sun: 9:30 AM – 4:30 PM
(Closed Tuesdays during winter and spring months only)
Please note: the gallery will be closed April 24-25
---
JOIN THE LEAGUE LEAGUE HEADQUARTERS


OUR MISSION: The mission of the League of NH Craftsmen is to encourage, nurture and promote the creation, use and preservation of fine contemporary and traditional craft through the inspiration and education of artists and the broader community.
© League of NH Craftsmen. Website Design by Sullivan Creative.