Classes
2022
Welcome back.  We've missed you!  We've made some changes to our Craft Education Program.  Here's how it works.
Customize your Class
Private Classes: You can work one-on-one with your craft teacher for specialized instruction, or bring your trusted friends or family to share the cost and reduce your tuition.  These private craft classes are fantastic for groups of friends, family activities, team building, and birthday parties or events.
OR
Public Classes: Schedule a class at a time that works for you, and choose to make the class "Public."  This will allow others the opportunity to join your class.  It's a great way to meet new people and share the cost of the class as others join in.  You can also hop into another person's scheduled public class by checking out the Class Calendar.
Choose a Class
Schedule your Class
Tuition is due upfront once your class has been scheduled.  A full refund less a 10% registration fee will be given if you withdraw from your class less than 4 days before your class begins.  No refund will be given after that time. Please note that your tuition may change with additional enrollment and cancellations, and there may be additional credits or charges accordingly.  We reserve the right to cancel classes due to inadequate enrollment and circumstances beyond our control.  In the event of a cancellation a credit or full refund will be given.
Covid-19 Safety
Each of our teachers have their own feelings about Covid-19 and masking.  Since you'll be working in close proximity with them, we are asking that all parties agree before masks are removed.  Please understand that some teachers will be requiring masks.
---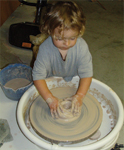 If you would like to receive notifications about upcoming classes, please click the button below. New sessions are announced seasonally (4-5 times per year.)  You can also join us on Facebook to keep updated about classes, demonstrations, and exciting new exhibits that come to the gallery.
VISIT US:
2526 White Mountain Hwy
PO Box 2614
North Conway, NH 03860
603-356-2441
STORE HOURS:
Mon-Fri: 10:00 AM – 5:00 PM
Sat: 9:30 AM – 6:00 PM
Sun: 9:30 AM – 4:30 PM
(Closed on Tuesdays January 1- June 1)
---
JOIN THE LEAGUE LEAGUE HEADQUARTERS


OUR MISSION: The mission of the League of NH Craftsmen is to encourage, nurture and promote the creation, use and preservation of fine contemporary and traditional craft through the inspiration and education of artists and the broader community.
© League of NH Craftsmen. Website Design by Sullivan Creative.