Craft Classes
Now is your chance to make your own Holiday Gifts!   
Space is limited!  Call 603-356-2441 to reserve a space in your class! 
Please register at least 3 days before your class is scheduled to begin.  Full tuition is due at the time of registration.  A full refund less a 10% registration fee will be given if you withdraw from a class less than five days prior to the first day of class.  No refund will be given after that time.  We reserve the right to cancel classes due to inadequate enrollment and other circumstances beyond our control.  In the event of a cancellation a credit or full refund will be given.
Adult Classes  
---
F18C1 Silver Metal Clay and Jewelry Design
Learn to make one-of-a-kind jewelry using interesting textures and designs, and incorporating a semi-precious stone!  The focus of this class will be to make 2-3 pendants. Students will learn how to use silver metal clay, apply surface treatments, bezel set a stone, and construct jewelry pieces with multiple components.  Silver metal clay is a medium made from fine silver powder. Your jewelry will be formed like clay, then fired in a kiln to just below the melting point. The binder burns away while all the particles of silver fuse together leaving you with pure silver jewelry!
Teacher: Karen Eisenberg   
Date/Time: Thursday Evenings 5-8pm   11/29, 12/6, 12/13 (three 3-hour classes)  
Ages: teen-adult  
Tuition: $160 materials not included (Students typically use $65-$100 worth of materials in this class.  Material fees will be paid directly to instructor.)
---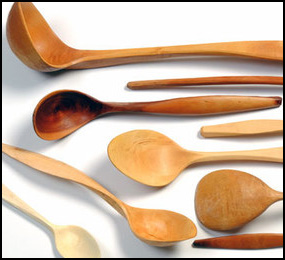 F18C2  Wooden Spoons!
Learn to make your own wooden spoons! Students will begin with crude blanks and learn how to craft beautiful wooden spoons out of a variety of hardwood including cherry, maple, and poplar.  Make your own holiday gifts, or add them to your kitchen!
Teacher: Adam Bartkoski   
Date/Time: Wednesday Evenings 5-7pm  12/5, 12/12 (two 2-hour classes)  
Ages: teen-adult  
Tuition: $50 (includes materials for 3 spoons.)
---
W19C1  Silk Scarf Dyeing

With the skilled guidance of Edy McAndrews, students in this class will learn techniques to design colorful silk scarves using basic folding and tying techniques, soda ash, and fabric dyes.  Make a gift to give to yourself or someone you love for the holidays!

Teacher: Edy McAndrews
Date/Time: Wednesday December 19,  5-8pm (one 3-hour class)
Ages: teen-adult  
Tuition: $48 (includes all materials for two scarves)
---
W19C2 Ice-Dye Your Own Garments!
Do you have a boring beige shirt in your closet?  Turn it into something vibrant and colorful! Students in this class will bring their own garments and learn "ice-dyeing" techniques to make colorful wearable art!  Students will learn how to create intricate and one-of-a-kind patterns using basic folding and tying techniques, soda ash, and fabric dyes. Buy a new white shirt if you wish, or clean out your closet!  You'll love wearing your old clothes made new again with your own unique designs!
Teacher: Edy McAndrews
Date/Time: Friday Jan.18, 4- 6pm, and Saturday Jan.19, 10am- 12pm (two 2-hour classes)
Ages: teen-adult  
Tuition: $40 (Bring 2-3 pre-washed cotton, linen, silk, or rayon garments. All other materials are included in price.)
---
Kids Classes  
---
No kids classes at this time.
Please check back soon to see new classes listed since your last visit.