Jennie Blair
A Conway native, Jennie Blair received a BFA in Studio Arts from Plymouth State University in 2000. She continued her studies over the next 15 years, completing an apprenticeship in Whitefish, MT, and managing a production pottery studio in Bozeman, MT, all the while developing her own pottery business.  She moved back east in 2013, and has been making beautiful functional pottery in her studio in Conway ever since. Jennie has been teaching pottery classes at the North Conway League of NH Craftsmen since 2013.
---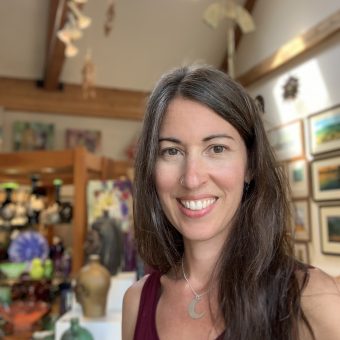 Karissa Masse
Originally from Lovell, ME, Karissa Masse has made her living teaching art, making pottery, and managing galleries since she left school. She earned her BFA from RIT in 1999 where she studied ceramics and sculpture. Upon graduation, she spent a year teaching art and pottery at art centers in Rochester, NY. In 2001 she established Earth & Fire with her partner, a pottery and glassblowing studio in North Conway, NH, where she continued to teach pottery lessons. She taught art at Fryeburg Academy from 2004 until her son was born in 2006. She has been the owner and curator of the League of NH Craftsmen Gallery in North Conway since 2006. Karissa has been managing the education program and teaching ceramics at the League since 2008.
---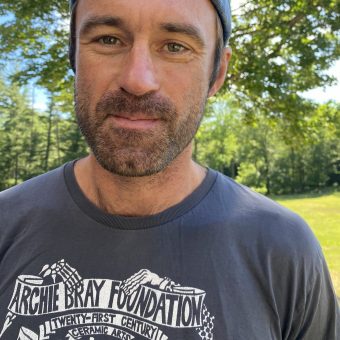 Gabe Ohlson
"Everybody knows Gabe!" Gabe Ohlson was born and raised here in the Mount Washington Valley, where his family has established a number of successful businesses he helps run and maintain. Gabe discovered clay while attending Gould Academy, class of 2004. He studied ceramics and earned his BFA in Studio Arts from Montana State University in 2010. During his college years Gabe routinely spent time at the Archie Bray Foundation for the Ceramic Arts in Helena, Montana. In 2018 Gabe became involved at the at the North Conway League of Craftsmen, helping with studio maintenance and hosting Open Studios. Gabe began teaching pottery classes in 2021.
---
VISIT US:
2526 White Mountain Hwy
PO Box 2614
North Conway, NH 03860
603-356-2441
STORE HOURS:
Mon-Fri: 10:00 AM – 5:00 PM
Sat: 9:30 AM – 6:00 PM
Sun: 9:30 AM – 4:30 PM
(Closed on Tuesdays January 1- June 1)
---
JOIN THE LEAGUE • LEAGUE HEADQUARTERS

OUR MISSION:
The mission of the League of NH Craftsmen is to encourage, nurture and promote the creation, use and preservation of fine contemporary and traditional craft through the inspiration and education of artists and the broader community.

© League of NH Craftsmen. Website Design by Sullivan Creative.